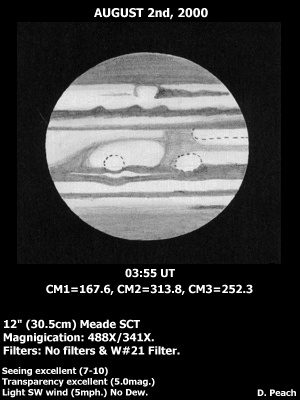 No. 1 2000/08/02 03:55(UT)
I=167.6 II=313.8 III=252.3

D.A. Peach, Kings Lynn, Norfolk, UK.
12" (30.5cm) Meade SCT.
Magnification: 488X/341X 
Filters: Unfiltered & W#21 filter.

Seeing excellent (7-10)
Transparency excellent (5.0mag)
Light SW wind (5mph.) No Dew.
Observation comments:
Again probably the finest view i have had of the Planet (especially at 488X with the W#21 filter.) Oval BA was easily observed. Its faint dusky border was also seen, and the oval itself appeared bright. The dark sector of STB sharply defined its f. border, and hints of turbulence within this sector were detected.

The EZ was very turbulent, with dark blue projections, and colums. Many bright areas across the zone (the one seen in the EZ(S) almost certainly associated with the stormy sector, now having passed the GRS. The NEB appeared brick red, with spectacular rifting visible. The centre of the rift appeared eye shaped, with faint extensions exteding p. and f. of its centre. The SEBs also appeared brick red, with dark condensations seen along it.

Short dark NNTB segment seen. No NTrZ colour noted.