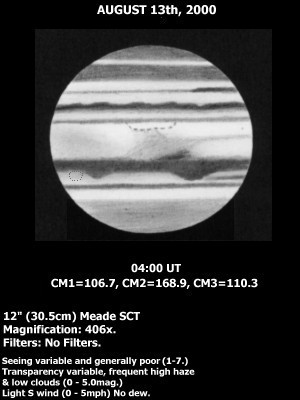 No. 3 2000/08/13 04:00(UT)
I=106.7 II=168.9 III=110.3

D.A. Peach, Kings Lynn, Norfolk, UK.
12" (30.5cm) Meade SCT.
Magnification: 406X. 
Filters: No Filters.

Seeing very variable (1-7.) 
Frequent periods of fast high altitude turbulence.
Transparency variable, with frequent high haze/low 
clouds (cloud - 5.0mag.)
Light S wind (0 - 5mph.) No Dew.

Observation comments:
Very variable seeing and transparency caused problems, though there were a few short periods of fair - good seeing during which the most detail was seen. Seeing was slightly better during the Saturn observation.

Earlier in the session the GRS was observed at the f. limb. The dark material on its f. edge was briefly seen with the W#21 filter.

STB DS#2 was easily observed, though DS#1 eluded observation due to medicore seeing. A faint STB was also seen.

The EZ appeared less active than at the longitudes L1-180. Faint projections were seen, as was a bright area in the EZ(S.) NEBn appeared dark, with a bright bay and two possible barges (they appeared more as projections in the NTrZ.) NTB dark. Bright S3TZ.