---
Damian Peach (305mm Meade SCT, Cooled CCD Camera SBIG ST-5C)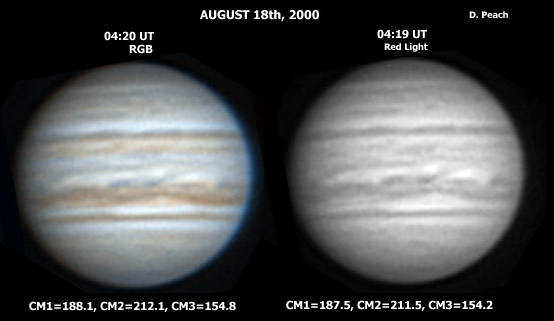 No. 6 2000/08/18 04:20(UT)
I=188.1 II=212.1 III=154.8

D. A. Peach, King's Lynn, Norfolk, UK.
12" (30.5cm) Meade SCT @ f/21.0. ST-5c camera.
SBIG RGB Filter set.

Total Exposure Times:

Red Light (+ IR Rejection): 4.50 - 5.85secs
Green Light (+ IR Rejection): 4.95 - 5.10secs
Blue Light (+ IR Rejection): 7.15 - 8.25secs

Seeing fair-good (5-7.)
Transparency variable (clouded - 4.5mag), low clouds throughout.
Wind SW (5-10mph.) Light dew.

Observation comments:
Here are my first Jupiter images of 2000-2001. Conditions were fairly favourable, but not as good as previous nights when observing visually.

The second bay that was close to White Spot Z seems to have disappeared. Also, possible remnants of DS#3 are seen in the STZ.
---

Hideo Einaga (250mm Newton, Digital Still Camera NEC PICONA)


No.48 2000/08/18 18:40:26(UT)
I=352.6 II= 12.0 III=314.9

250mm Newton, LV12mm
NEC PICONA 1/7sec, 5 frames compoiste
Seeing:4/10 Transp.:2/5


(Enhanced by Y.Iga)

大雨洪水警報の出た10時間後の撮像です。晴れてくれましたが、薄雲とモヤがかかって、透明度が非常に悪く、拡大率に対して輝度が不足しており、画像内には実際にはない情報が沢山含まれているかもしれません。(CCD面も汚れてきている?)
GRSの前方のストリ−クは木星のエッジまで伸びている。




No.49 2000/08/18 19:27:22(UT)
I= 21.2 II= 40.4 III=343.3

250mm Newton, LV12mm
NEC PICONA 1/7sec, 6 frames compoiste
Seeing:4/10 Transp.:2/5


(Enhanced by Y.Iga)





No.50 2000/08/18 20:07:26(UT)
I= 45.7 II= 64.6 III= 7.5

250mm Newton, LV12mm
NEC PICONA 1/7sec, 5 frames compoiste
Seeing:6/10 Transp.:2/5


(Enhanced by Y.Iga)

GRSの赤味みに部分的な濃淡が見られるが、シ−イングのなせるものと思われる。



---

Yoshinori Kawahara (250mm Cassegrain, Digital still camera NEC PICONA)


No. 20 2000/08/18 19:31:48(UT)
I= 23.9 II= 43.1 III=346.0
250mm Cassegrain, barlow 3x(f/32)
NEC Picona 1/7sec, 10 frames composite




(Enhanced by Y.Iga)

seeing6/10 transp4/5
朝方にならないと まだだめだ。


No. 21 2000/08/18 19:55:40(UT)
I= 38.5 II= 57.5 III= 0.4
250mm Cassegrain, barlow 3x(f/32)
NEC Picona 1/7sec, 10 frames composite




(Enhanced by Y.Iga)