木星 月惑星研究会 関西支部 (最新)
ALPO-Japan Latest
Jupiter Image 2001/02/17 (UT)
永長英夫,D.A.Peach,奥田耕司,安達誠
H.Einaga,D.A.Peach,K.Okuda,M.Adachi
---
Hideo Einaga (250mm Newton, Digital Still Camera NEC PICONA)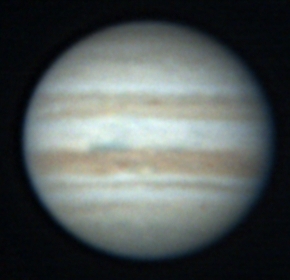 001/02/17 09:34:31 (UT)
CMI = 123.1, CMII = 189.1, CMIII = 180.5
De = +3.0, E.Dia = 40.13"
6 frames composite
Seeing=4/10,Trans=2/5
25cm+LV12mm+prism 3d +Picona(1/7s)
・SEBsのCM後方に赤みがかった小暗斑あり。
・NNTBのCMかなり後方にも赤みがかった小暗斑あり。
・この後、急速にシ−イング悪化する。




---
Damian A. Peach (12" (30.5cm) Meade SCT @ f/21.0. ST-5c camera.)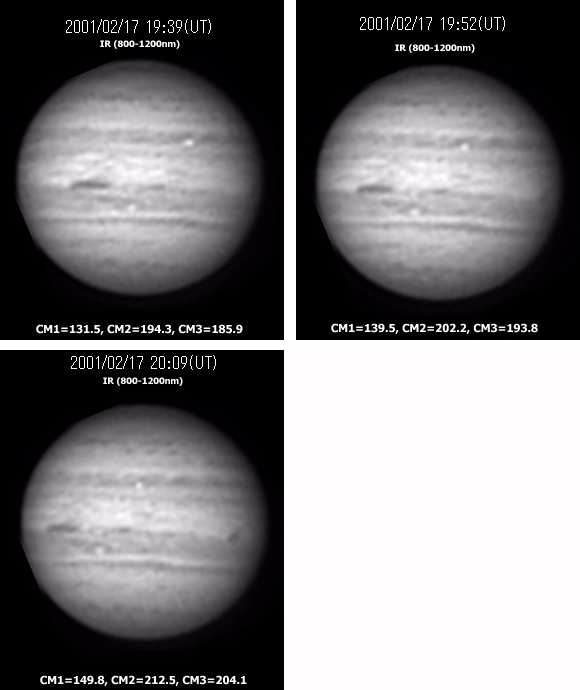 INFORMATION FOR JUPITER IMAGES, FEBRUARY 17th, 2001.
D. A. Peach, King's Lynn, Norfolk, UK.
12" (30.5cm) Meade SCT @ f/21.0. ST-5c camera.
SBIG RGB Filter set.
Total Exposure Times:
IR (800-1200nm): 6.30secs
Seeing good (6-7.)
Transparency poor-fair (3.0-2.5mag), light mist fog, increasing late.
No wind. Moderate dew, increasing late.


---
Koji Okuda (250mm Newton, BITRAN BT-01 Cooled CCD Camera)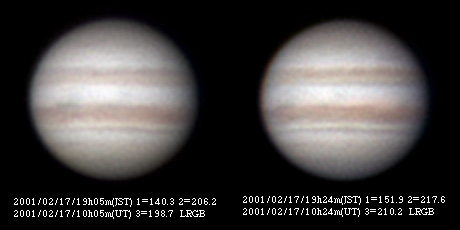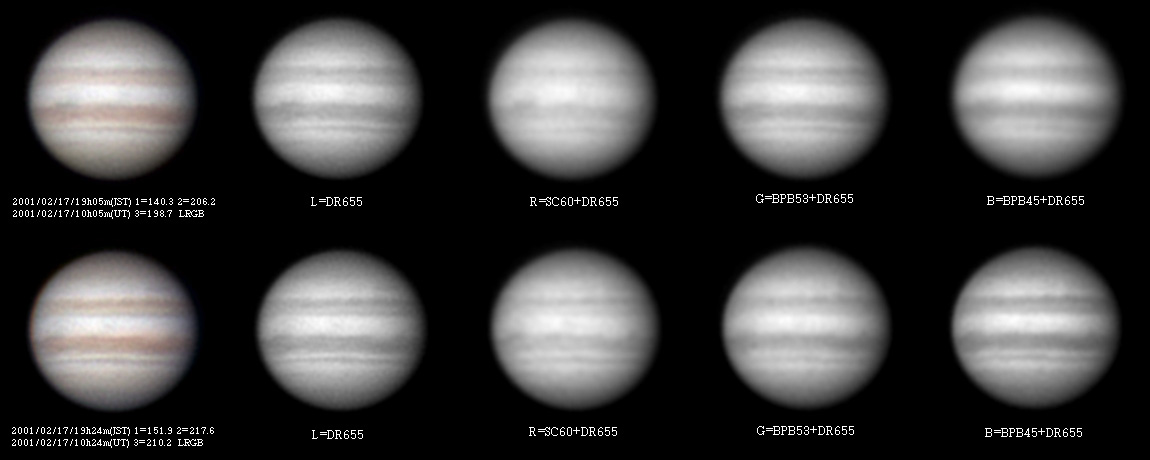 Seeing=3-5/10  Transpa=7-8/10
:右よりに永続白斑BAが見えるが、
 かなり淡い。

---
Makoto Adachi (310mm Newtonian, Drawing)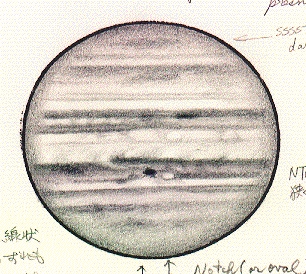 ・STBは東西にわたってよく見える。濃く見えているわけで
 はないが存在ははっきりしている。
・EBは南のエッジのみはっきり見える。かなり細いバンドに
 なっているのがわかる。
・EZnの中のフェストーンは線状になっているものはなく、
 いずれも羽毛状になっているのがよくわかる。
・NTBは北組織がよくわかる。
・NEBのバージは楕円形のエッジをしており、非常に濃くよ
 く目立つ。色まではわからないが、東西に長い姿がよく
 見える。緯度はすぐ後方のノッチよりもやや南によって
 見える。
.A long streak were present in SEBs.
.The south edge of EB is clearly seen.
.Left of part of NTB is dark seen.  This dark
  section is complexed.
.The Barge of NEB formed oval style, and it is
  seen on the south compornent of the NEBn. The
  Notch is clearly visible.


---

ALPO-Japan Latest

Jupiter Section