木星 ALPO-Japan Latest


Jupiter Image 2016/03/25(UT)
菅野清一,安達 誠,阿久津富夫
Ing.Eduardo Alamilla Esquive,Anthony Wesley,Paul G. Abel,Paco Bellido,Joaquin Camarena,Christopher Go,In-Joon Hwang,Milika-Nicholas,Charles Triana,Efrain Morales Rivera,Damian Peach
E.Alamilla,S.Kanno,Anthony.W,P.Abel,P.Bellido,J.Camarena,Christopher Go,I.J.Hwang,M.Adachi,Milika-Nicholas,T.Akutsu,C.Triana,E.Morales,D.Peach
---
Ing.Eduardo Alamilla Esquivel(356mm SC)

UT date: 25 march 2016,02 hr 18 min 55 sec (mid time of capture).

[Ing.Eduardo Alamilla Esquivel : Coahuila,Mexico]
---
Seiichi Kanno(300mm Newtonian)

撮像開始後、僅かの間に雲の来襲を受けて撮像不能になり、少しの画像しか取得出来ませんでした。

≪山形県上山市  菅野清一≫[Seiichi Kanno:Yamagata Japan]
---
Anthony Wesley (406mm Newton)

There is an interesting compact methane-dark spot on the NEB,visible at
right close to setting,and on the SEB we can see a chain of very small
methane dark spots surrounding an elongated methane-bright feature.
The high altitude polar hood is clear in the far south.

[Anthony Wesley,Murrumbateman Australia]
≪アンソニ  オーストラリア≫
---
Paul G. Abel(203mm reflector)

Attached is an observation of Jupiter made last night.  
Unusually,the seeing was rather good in spite of the strong wind which was blowing.  
There were a number of interesting features on the disk:

-  STB rather broad,a number of white ovals present along with a large rift above the GRS.
-  STropZ seems to contain a slight yellowish cast.
-  GRS prominent- indeed this is the darkest I've ever seen it,and a deep orange colour.
-  EZ bright,and contained a number of bright bluish festoons.
-  NEB not as broad as the SEB,the bright white spot still very prominent.
-  NTB and NNTB vague.

[Paul G. Abel:Leicester:United Kingdom]
---


[ Paco Bellido :Cordoba Spain]
---
Joaquin Camarena (SC 355mm)


[Joaquin Camarena:Spain]
---
Christopher Go (355mm SC)

Condition was good this today.

The GRS is well resolved.  Note the tiny vortices inside the GRS.   The wake of the GRS is very turbulent.   
Note the small red spot following the red spot.  There is a bright streak on the northern side of this small spot.  
 White Spot Z is also well resolved.  The edge of this spot is dark red and it has a bright center.  
The feature looks like an eye.



[Christopher Go : Cebu Philippines]
---
In-Joon Hwang (TSC225 225mm SC)

久しぶりに撮影をしました。

[In-Joon Hwang,Choongnam,Asan,Korea]
---
Makoto Adachi (Drawing: 310mm Newtonian)

木星観測を2枚報告します。気流が悪く、細部は分からない。寒気の
影響をもろに受けてしまった。


--------------------------------------------------------------
≪滋賀県  大津市  安達  誠≫[Makoto Adachi:Siga Japan]
---
Milika-Nicholas (355mm SCT)


These images were captured in irregular seeing at about 46 - 49 elevation where the focus was shifting enormous amounts during each capture,
necessitating constant focus adjustments throughout each recording - not an easy thing to do! :).
Even so,a pleasing amount of detail for the planet at this elevation & only reasonable seeing conditions,specifically with the iR610nm filter.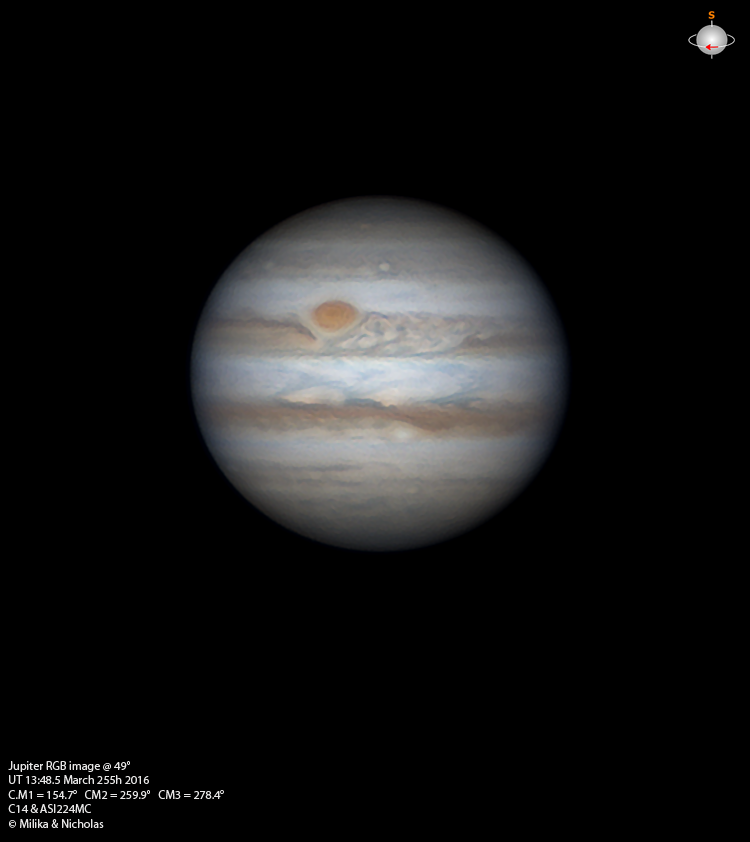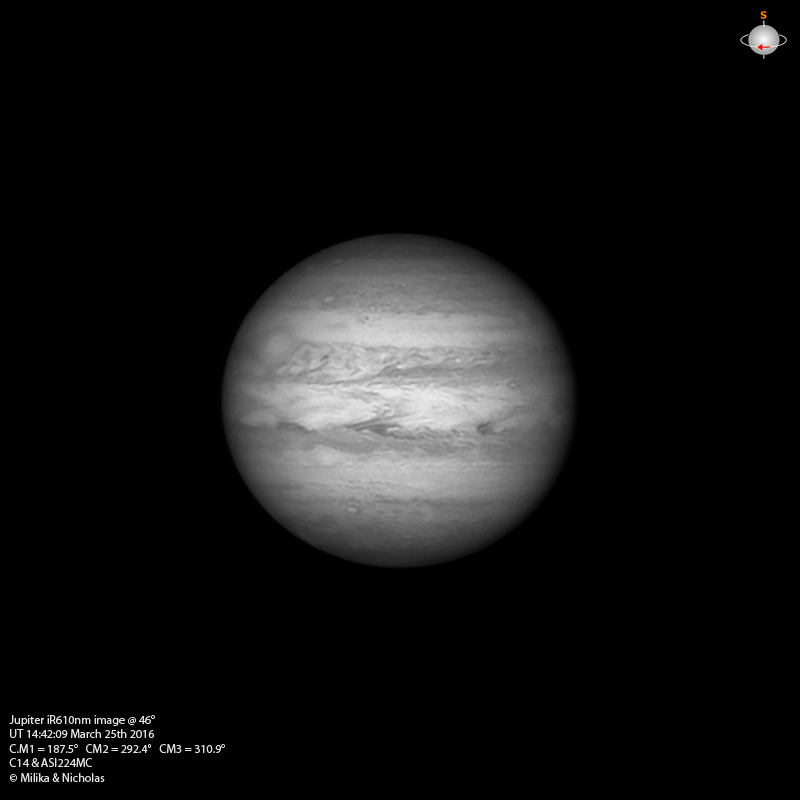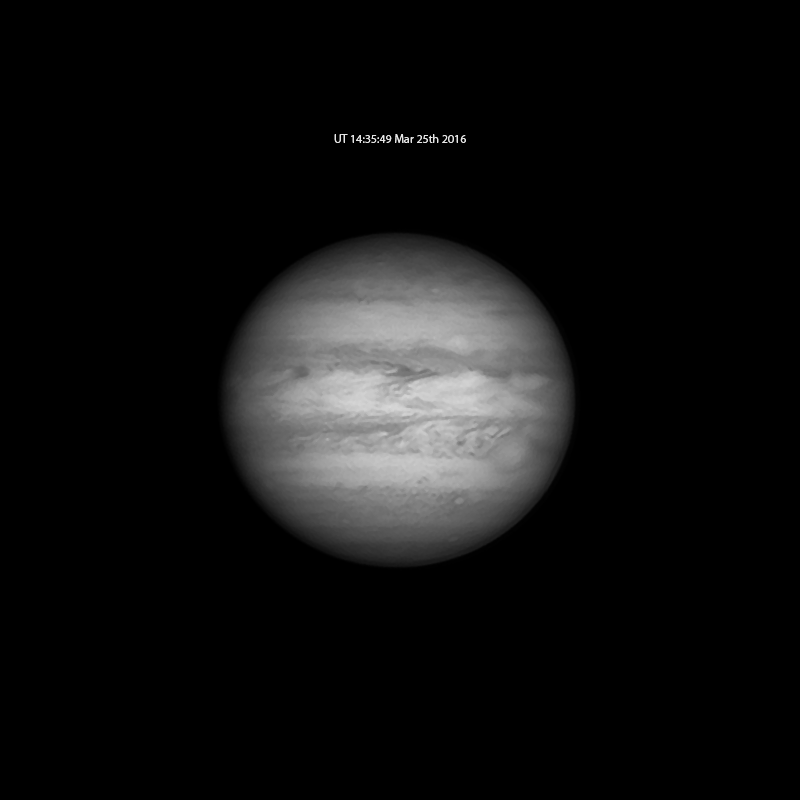 [Milika-Nicholas:Adelaide,South Australia]
---




≪栃木県那須烏山市: 阿久津富夫≫
---


[Charles Triana : Bogota - Colombia]
---
Efrain Morales Rivera(300mm SC)


[Efrain Morales Rivera  Aguadilla:Puerto Rico]
---
Damian Peach (356mm Celestron SCT)



[Damian Peach: Loudwater,Buckinghamshire,United Kingdom]
---